Very proud to invite you to the exhibition

:
…IETS MET RUIMTE at GALLERY PICTURA in GRONINGEN
Grand Opening on 12th of May 15.00u
Show runs from the 5th of May – 16th of June 2019!
I will be showing a new work ONDERSTROOM/UDERCURRENT.
The photographic installation has been made especially for the 17th century boardroom of Kunstlievend Genootschap Pictura.
Undercurrent was shot 100% analog
and is handprinted
Vol trots nodig ik je uit voor de opening van de tentoonstellling:
…IETS MET RUIMTE in GALERIE PICTURA in GRONINGEN
Feestelijke Opening op 12 Mei om 15.00u
Aanstaande zondag 12 mei om 15.00u is het zo ver, de opening van de tentoonstelling …Iets met ruimte in Kunstlievend Genootschap Pictura!
Mijn fonkelnieuwe werk ONDERSTROOM is er te bewonderen, het is een fotografische installatie speciaal toegespitst op de prachtige bestuurskamer van Pictura. Een 17e eeuwse pronkkamer waar je geen spijker in de muur mag staan; met veel dank aan PyraSied Xtreme Acrylic voor het sponsoren van de acrylaat platen!
Er gebeurt van alles op de opening: Ontdekkingsreiziger van het alledaagse Bram Esser opent de expositie, Hanna Snijder presenteert haar nieuwe fotoboek en Goran Turnsek doet een performance.
Galerie Pictura
Walburgstraat 1
Groningen
van 5 mei t/m 16 juni
wo t/m zo 13.00u-17.00u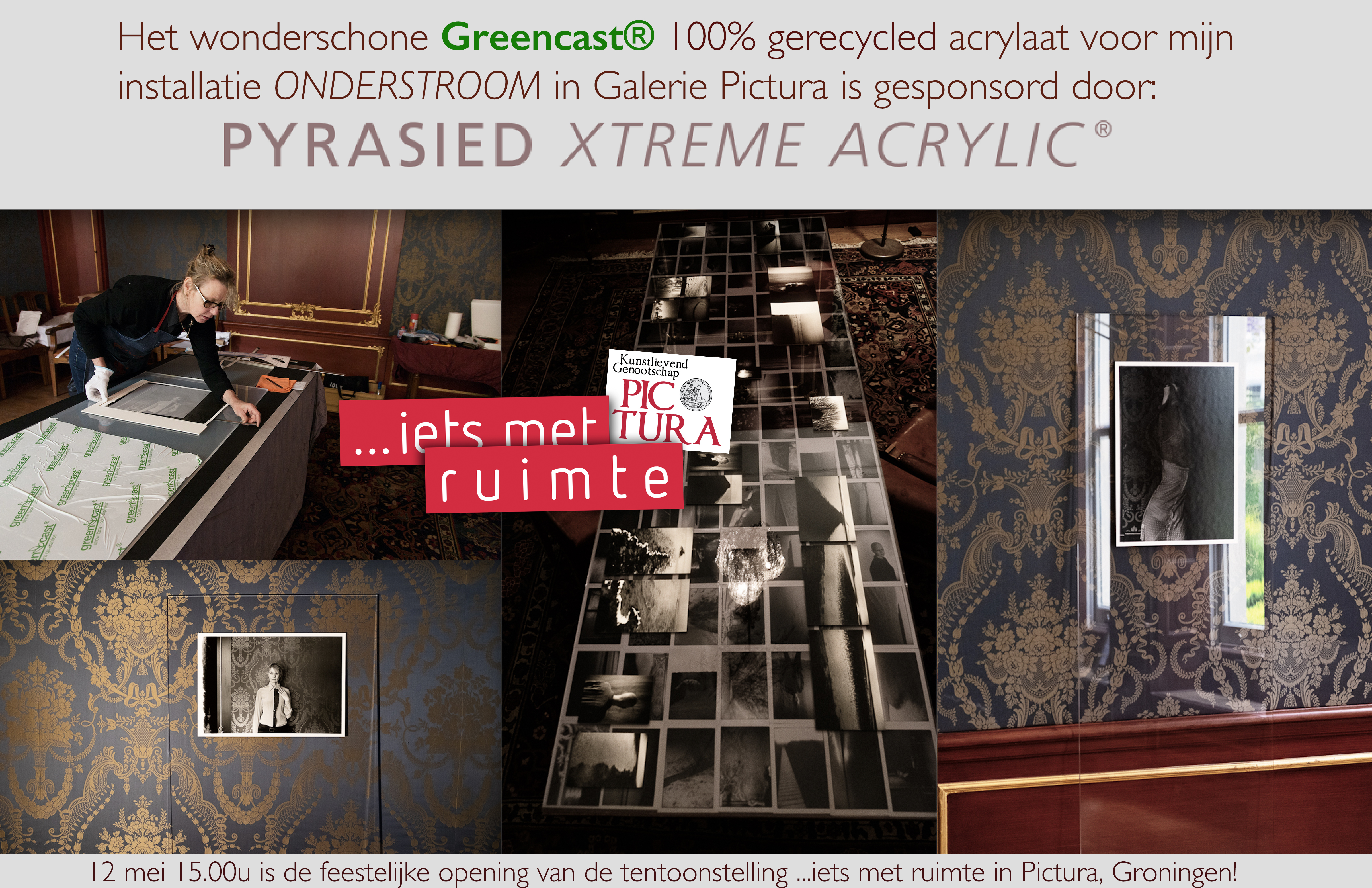 Opening Expositie "Iets met ruimte"
Met de fotografen: Anna Witkowska, Katharina Pohlmann&Adrian Faes, Arjan Post, Corine Hörmann, Goran Turnsek, Hanna Snijder, Jan Theun van Rees, Mariëlle Gebben, Meme Bartels, Sander van der Bij